Design by Amanda Shields Interiors
Perhaps you haven't given it much thought, but we spend a lot of time in the bathroom. Beyond just the usual "business," the bathroom is a private place to get away, relax, and unwind. It's a focus on health and wellness and a haven for self-care and indulgence. Aside from being the most used room in the home, it's also the most intimate, making it the perfect place to customize to your life, likes, and longings. And when it comes to investment value, second only to the kitchen, bathroom renovations typically yield the best returns when they're well equipped, so why not create your own at-home spa? When choosing features and finishes for your new bathroom, know where to splurge and where to save. Take it from a pro—not every upgrade is worth the spend!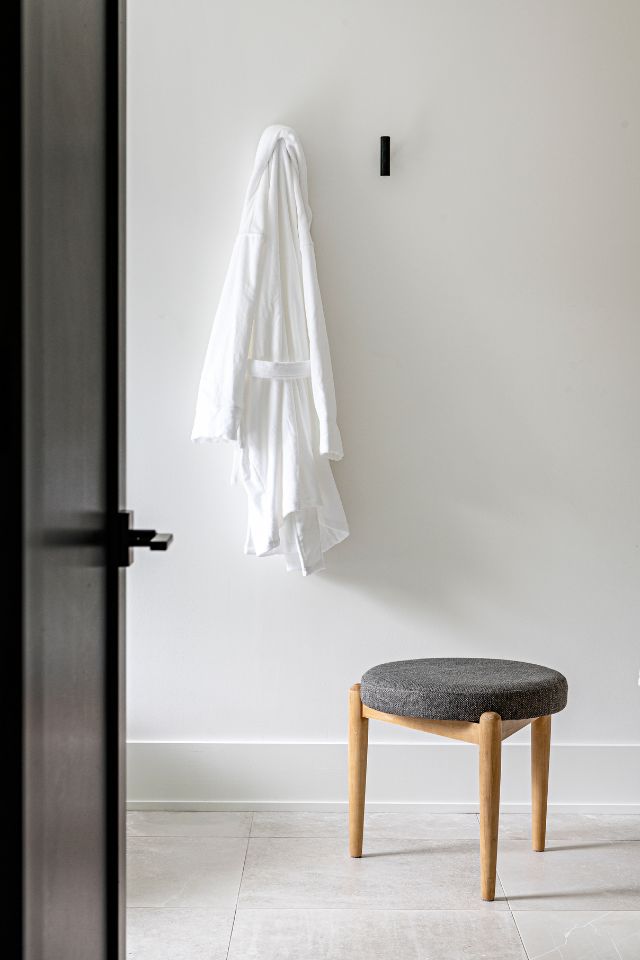 Photography by MIKE CHAJECKI
Whether you're renovating an existing bathroom for personal enjoyment or aiming to increase the value of your home with an added relaxing space, here are several spa bathroom ideas to try in your home this year.
Organic Influences, Everywhere
Earthy, natural materials will continue to be front and center in the world of design and décor, further reinforcing our established connections with nature and those most basic elements all around us. Truly, the Earth has a way of soothing us just when we need it most, making it a great source of inspiration for a spa-style bathroom.
For flooring and countertops, porcelain is my go-to for many reasons. Love the look of realistic Italian marble, elegant quartzite, or dramatic travertine? Porcelain tiles can echo any of these with realistic finishes and movement.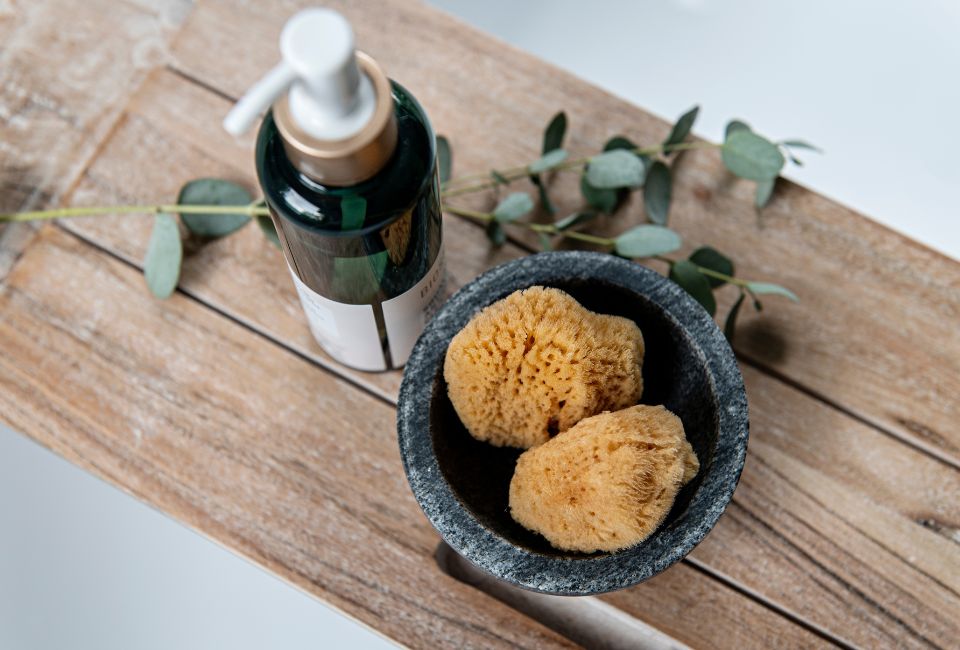 Photography by MIKE CHAJECKI
From a practical perspective, porcelain slabs are thin and designed to be installed over existing surfaces, including floor tile, wall tile, or countertops. They carry the look of fine natural stone but at a fraction of the weight. Consider that a standard 1¼-inch thick piece of granite weighs between 18 and 20 pounds per square foot, and a two-inch thick piece can top 30 pounds per square foot. In contrast, porcelain slabs tip the scales at 2.81 pounds or 5.8 pounds per square foot, depending on the size chosen.
Porcelain slabs come in huge 59-by-118-inch or 126-by-63-inch sheets, which means you can create a seamless, grout-less surface, virtually anywhere. And unlike natural stone, porcelain slabs never require sealing, and they are etch-, stain- and heat-resistant.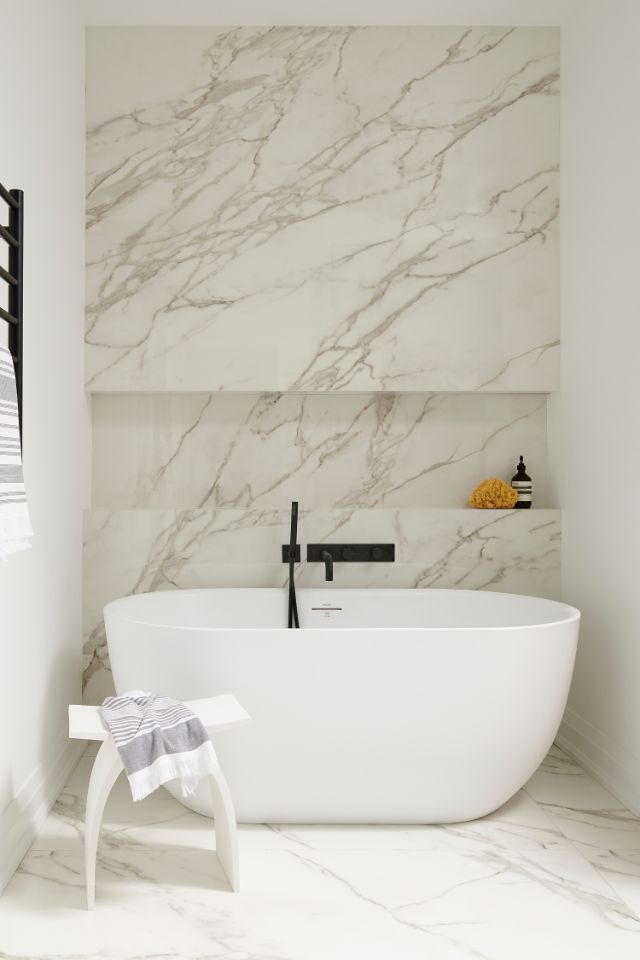 Photography by STEPHANI BUCHMAN
Color and texture further reinforce this trending organic aesthetic for your spa-like bathroom. Gentle, neutral tones can certainly add to a calming atmosphere, particularly when warmed up with textural elements that are commonly found in nature. Think natural wood grains and rough stones, coarse surfaces, matte finishes, and the like.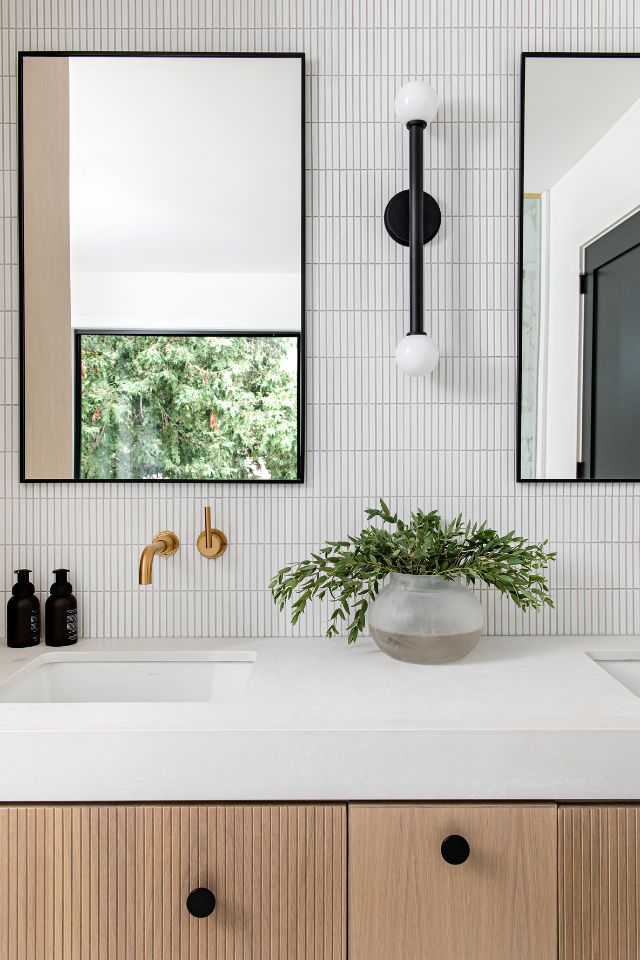 Photography by MIKE CHAJECKI
Plumbing fixtures follow suit, with brushed knurled and matte finishes shining most—or maybe more accurately, not shining quite as much as their polished counterparts. Muted finishes have become a popular hardware selection from chrome, copper, and gold, to, more recently, black fixtures. These finishes offer a more organic appeal and beautifully complement a suite of natural, neutral design choices in your spa bathroom.
Pro Tip: The comfort is in the details! Don't forget to add small natural elements like essential oils, scented candles, fresh flowers, rich wood tones, and gold accents to tie together your bathroom design in one cohesive look.
Lighting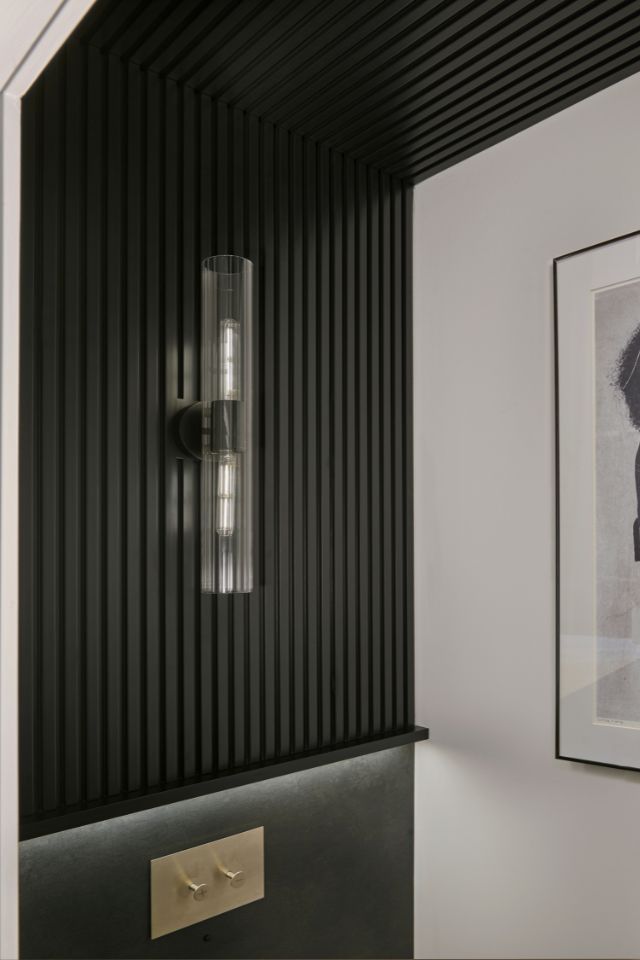 Photography by STEPHANI BUCHMAN
Your lighting decisions should be guided by the bathroom's overall style direction—whether it's nature, glamour, or modern luxury. The lighting you choose should underpin your desired spa-like bathroom aesthetic with an emphasis on natural light. There are a few things to consider when it comes to your bathroom lighting, regardless of the style. Ensure you have enough lighting to deliver function and aesthetic appeal to the space. Install dedicated lighting in each key area of use, such as the vanity, bathing, and shower area, toilet, dressing area, and meditation zone. Incorporate a balanced mix of ambient lighting, task lighting, and accent lighting to enhance function and highlight focal points.
When selecting your light fixtures, stay consistent in your materials, finishes, and styles, and ensure your choices align with one another and the broader aesthetic of the spa bathroom design.
Of course, to encourage an organic, relaxing ambiance, consider adding windows or skylights to your bathroom that let in natural light to achieve the ultimate spa bathroom feel.
To achieve a soothing atmosphere, ensure all lighting is placed on separate switches and dimmers, allowing you to turn it on, crank it up, or tone it down as desired.
Bathing
Your spa bath area is where you can really customize your space to cater to your unique preferences—aesthetic and practical. Minimalist spa bathroom designs prioritize bath and shower experiences within open, seamless layouts that don't demand you choose one or the other. Frameless, curbless showers feature continuous floor and wall tile, with streamlined rain shower heads, sprays, and stream elements that are all but hidden when not in use.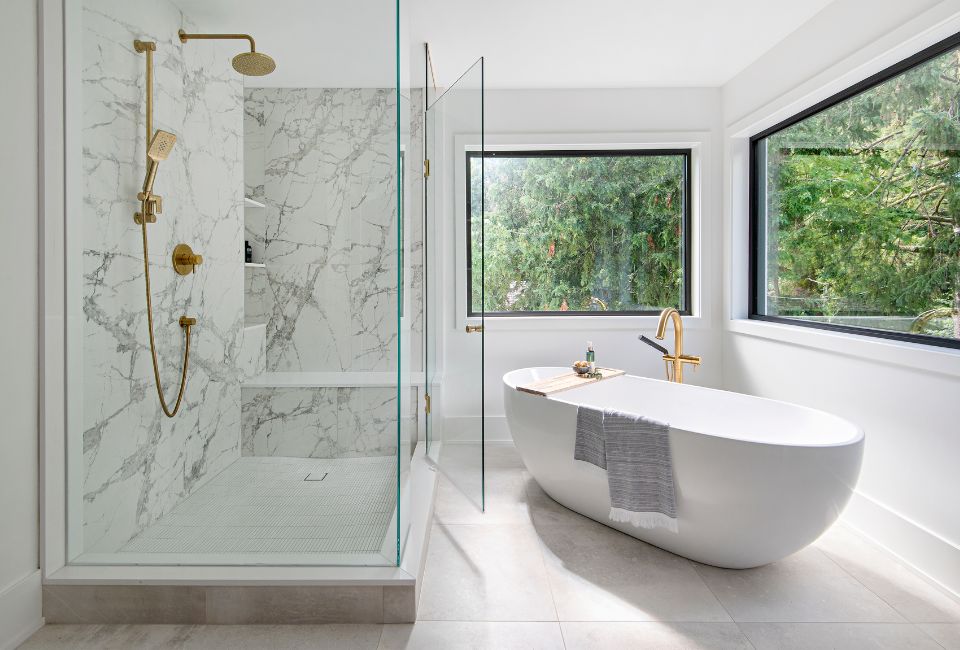 Photography by MIKE CHAJECKI
Meanwhile, deep, freestanding soaker tubs are front and center, as much about pampering the body as the eye. These artful, sculptural forms are complemented by a range of colors and materials, suited to every style, encouraging longer soaks and a little more "me time" at every opportunity.
Pro Tip: Try it before you buy it! A deep soaking tub should fit your entire body to ensure the ultimate level of comfort. Don't be afraid to get in and try it on for size. Remember that each bathtub has its intricacies, and what works for one person may not work for another. You want your overall spa bathroom experience to cater to your specific needs.
Technology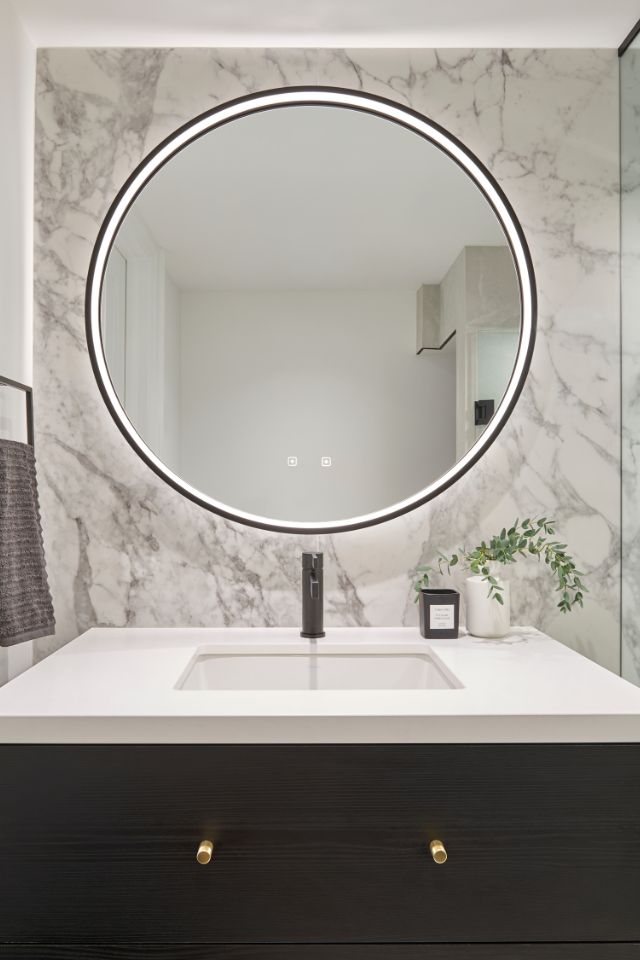 Photography by STEPHANI BUCHMAN
If you thought you could or should escape technology in your spa-style bathroom, think again. On the surface, the tech trend seems to fly in the face of the aforementioned organic influences and overarching goal of rest and relaxation, but in reality, these smart features serve to elevate our comfort and well-being behind the scenes.
Features such as heated floors, warming towel racks and toilet seats, smart mirrors, intuitive lighting, and customizable shower and bath experiences are not outwardly visible, but once you've experienced the comfort and convenience they bring to your fingertips every day, you'll wonder how you ever got along without them.
Surviving the Renovation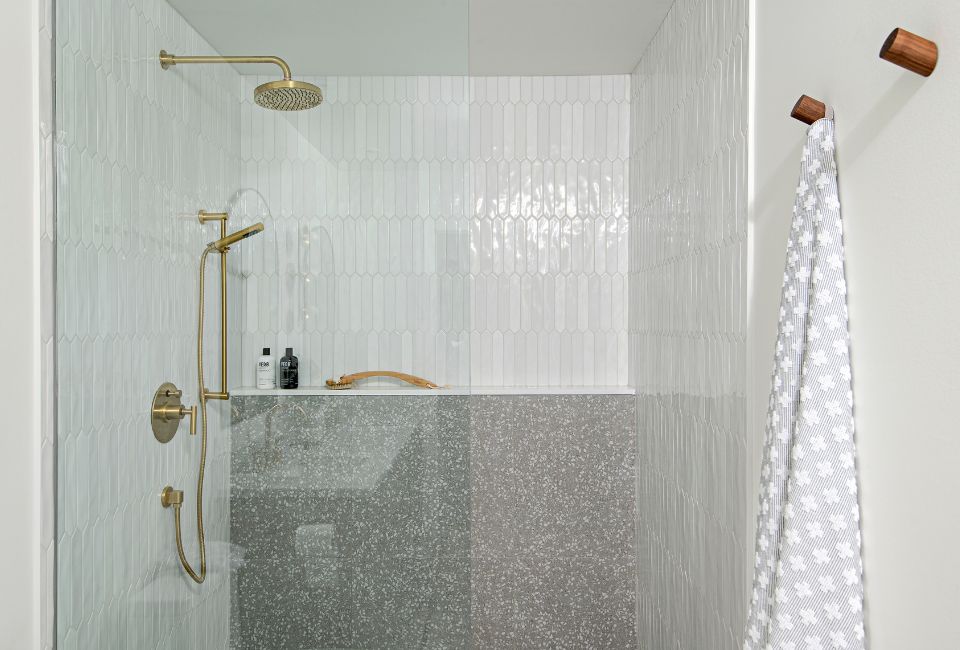 Photography by MIKE CHAJECKI
The goal of your spa-inspired bathroom is to rest and relax, but getting there can be a bumpy road if not done right. You have a vision for your space, and you likely have a timeline for completion in mind. Unfortunately, this is where a lot of renovation projects go sideways, which can also impact your budget. A renovation has a lot of moving parts, from the concept and planning stage to choosing and ordering materials, to arranging for product delivery and installation—not to mention keeping the various suppliers and contractors accountable. A realistic timeline is critical, and keeping track of key renovation milestones is key. Any delays in your renovation can have a costly domino effect on everything that follows.
Another factor that can significantly impact your timeline and budget is whether you're doing the work yourself or engaging a team of professionals. Working with a professional has many advantages that pay off in the long run, including thoughtful design, quality work, and completing jobs by deadlines. When hiring a designer or contractor, please do your due diligence to ensure they have experience with the type of work you need to be done. Check references and confirm the work was completed as discussed, on budget, and on time. Aside from the design itself, a professional designer's job is to guarantee the work gets done without a hitch, from start to finish.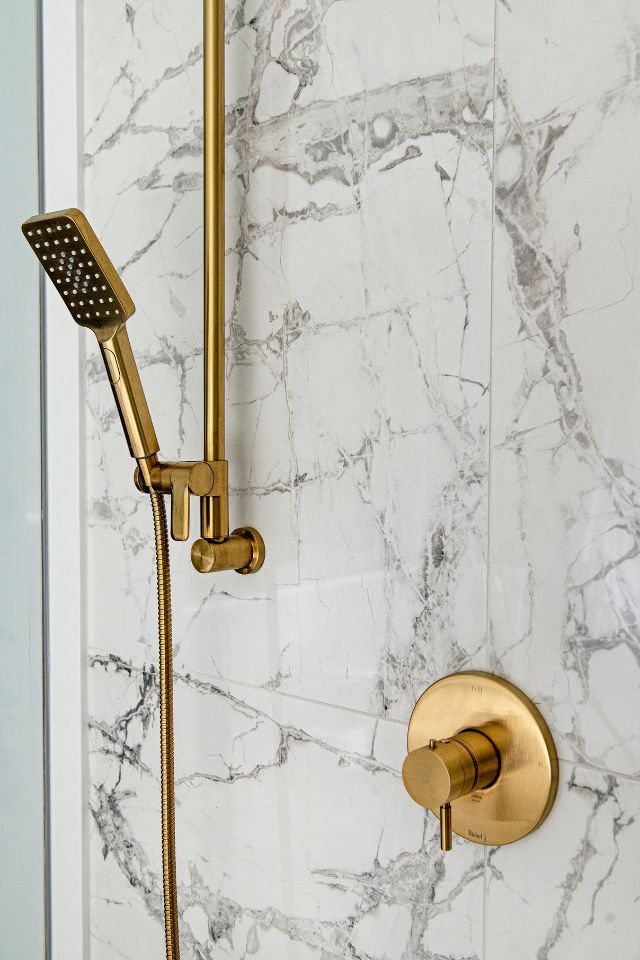 Photography by MIKE CHAJECKI
Deciding to renovate your bathroom is a big step, but it's just the first of many ahead. My best advice is to be prepared. However, when completed, your bathroom will not only be the most used room in your home but also the most loved!
Looking for more inspiration? Check out exclusive designer features, and flooring trends and stay up to date on current interior design styles with our latest issue of Beautiful Design Made Simple magazine.